Lux-Pain
A little less conversation, a little more action, please
Posted 4 years ago By - Steve Clare
Lux-Pain was released a year ago almost to the day in Japan and has now arrived in North America and Europe. The game has an interesting premise and some neat ideas, but many people will want a little less conversation and a little more action, in this unsettling adventure game, developed by Killaware and published by Ignition Entertainment.

Gameplay

Lux-Pain leans heavily on its story to keep players interested, because the actual gameplay is repetitive and unoriginal. Fortunately, the story is pretty good, even if its presentation is not. As soon as you load up the game you are thrown right into the action, without any backstory or tutorial to speak of. I have not been forced to look at a game's manual to learn what I'm supposed to be doing and why for several years, but I did for Lux-Pain. In my survey of the manual I learned that there are mental parasites called "Silent" that infect peoples' minds and multiply by feeding on their negative emotions. You play as Atsuki Saijo, a teenager who, after having his parents killed by the Silent, he imbues the parasite into his arm, giving him special abilities. Atsuki also wears a ring called Lux-Pain, which gives him the power to use Σ (sigma) and read other people's thoughts and emotions. Atsuki is a member of FORT (Force for Obliteration of the Risk of Terrors). Throughout the course of the game, he hunts the Silent's origin. He does this by enrolling at Kisaragi High School, posing as a transfer student. By day, he works covertly at school, uncovering clues that hopefully lead to the discovery of the Silent origin. By night, he scours the city for more clues, delving into Kisaragi City's inhabitants' minds through the use of Σ and sifting through their innermost thoughts and feelings, all in the name of the greater good. The story is presented in an extremely confusing manner and, although it is surprisingly interesting, the presentation ruins it.

One would hope that the game would offer the player a tremendous amount of freedom while exploring the city and school, and keep you on a loose leash. Unfortunately, this is not the case. When you are exploring, you can only enter a very limited amount of areas, one that enhance the plot . It often feels that the game is holding your hand too tightly and instead of uncovering the mystery, you're watching it unfold as you tap the screen randomly.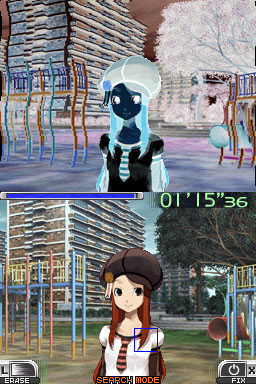 The story is pretty interesting, but its presentation is confusing
The illusion of choice extends past the game's exploration. In some conversations, you are given a couple dialogue options to choose from, but no matter which you go with the outcome is the same. People's feelings toward you will change, but it doesn't affect the game overall. Sometimes when you engage in conversation with people, you can ask them about suspicious actions or events you discovered earlier in the game. Once again, though, the choice is there only in spirit. If you choose the "wrong" topic, they'll just say that the don't know anything, and you can keep asking them questions until you hit on the "right" topic.

When you finally hit on the "right" topic, you'll often be prompted to use Σ by tapping a button in the center of the touch screen, but this only sends you into a short minigame. You'll have to hunt across the touch screen for a person's shinen by rubbing away an image of your target until you uncover it. When you finally do find and trap the shinen you are treated to a short text collection of the person's thoughts and emotions, which float into place on the upper screen with different speeds, colours and effects, rather like an interactive poem.

Unfortunately, these sections highlight another of the game's problems: the writing. The translation that developer Killaware has done is sloppy at best. Hardly a sentence goes by without some significant grammatical error. There are also plenty of capitalization issues and other spelling mistakes. Sometimes, sentences aren't even coherent. On the plus side, the limited voice acting is surprisingly good--more on that later.

Hyperactive gamers are going to have a lot of trouble getting through Lux-Pain, because much of your time is spent reading text. The biggest problem with the game, however, is that it gets repetitive. There is very little variation, so those who choose to play Lux-Pain should be prepared to play for the story, not the action.

It's unfortunate that Lux-Pain becomes so repetitive and boring
Graphics and Sound

Lux-Pain's visuals are heavily influenced by anime. This look is evident in characters' clothes, hairstyles, and demeanors such as scarce clothes on girls and long and often spiky hair. Both students and teachers alike show interest in Atsuki. Perhaps I'm nitpicking, but it was a bit disconcerting when the school nurse winked at me and gave me her email address, promising that we would talk further in the future. Other graphics, such as the areas you can visit, are well realized in addition to the characters. The visuals in general are crisp and look nice.

Audio-wise, Lux-Pain is surprisingly competent. The music is varied and changes to fit the atmosphere. For example, during shinen sections a haunting melody plays, which then shifts to a sprightly tune during more light-hearted sections.
There is a small amount of voice acting included, but it is reserved for important plot points, which is good, fortunately. The voices fit the characters well and are of good quality.

Lux-Pain's audio-visual doesn't push the DS, but it gets the job done and does it with style.

Uncovering shinen and Silent within a person provides the only action in the game
Value

Lux-Pain's story is of adequate length, but many gamers won't find the drive to finish it due to the lack of action and confusing story. Even if you do beat the game, there is be little reason to go back and play it again. If you're looking for an adventure that you can play for a long time, or one that you can go through over and over again, Lux-Pain is not your best bet.

The game does come with a neat book entitled "The Art of Lux-Pain." While it's sloppily stuck to the back of the gamebox and peeling it off mangles the cover, contained within is some slick anime-style artwork of the characters. It's a nice touch, even if it is an obvious afterthought.

Conclusion

Throughout the time I spent with Lux-Pain, there was an underlying feeling that the game would have been better off as an anime series. There is loads of text to read and characters to meet, but the time you spend actually playing is relatively small. It didn't bother me too much, but, then again, I am an avid reader, a trait that is becomingly increasingly scarce in today's society. In fact, many people play games as an alternative to reading, and if you are one of them, Lux-Pain is certainly not for you. However, if you can get past the copious amounts of text and shoddy translation within it, you might just find something to like in Lux-Pain.
+ Interesting story
+ Crisp visuals
+ Solid voice-acting
+ Lots of interesting concepts...
- ... none of which are executed particularly well
- Convoluted story-telling
- Player spends far too much time reading and not enough actually playing
More NINTENDO DS Reviews on GameFocus
Download us here!

Game Junkies podcast and audio interviews

5 Things Microsoft Can Do At Their Xbox Event To Beat Sony To The Punch
Sony did a great job announcing the PS4 to the world earlier this week, but here are some of the things we think Microsoft should do in order to surpass their competitor for their own reveal: 1- Be more clear about the features All of the...
More >>
More details about this game
Release Date :
2009/03/24
System :
Nintendo DS
Publisher :
Ignition Entertainment
Developer :
Killaware
Category :
Action-Adventure
ESRB :
T
Sacred. Arguably one of the most underappreciated of the various RPG universes. Starting out on PC, the 3rd person isometric view and...
7.0 / 10
NetherRealm Studios, led by creative director Ed Boon, has taken a slight break from the chaotic and gruesome action that is featured within the...
8.5 / 10
My mouth was dry as I began the back nine on the hallowed grounds of golf's most iconic course. I hitched up my knickerbockers, approached...
8.0 / 10
The third game in the BioShock series, and the second developed by Irrational Games, seeks to take the series to new heights, literally....
8.7 / 10